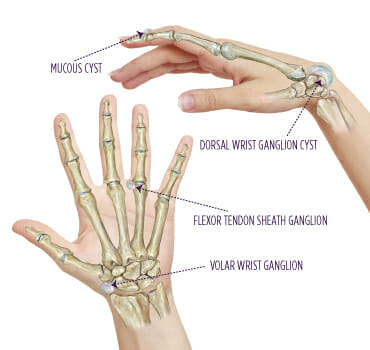 What is a ganglion cyst?
A cyst is a small, fluid-filled sac that forms a visible lump. Ganglion cysts often occur on the top or bottom of the wrist and on the fingers, over a joint or tendon. Other characteristics of ganglion cysts include:
They are typically anchored in place but when pressed can be moved very slightly.
A ganglion cyst can change size and shape over time.
They are benign (noncancerous) and cannot spread to other areas of the body.
What causes ganglion cysts?
We don't know for sure what causes a ganglion cyst to form. More often than not, they are in areas with tendons and joints nearby.
What are common symptoms of a ganglion cyst?
Common signs and symptoms of a ganglion cyst include:
A lump in the wrist or hand, which may be soft or firm, large or small, and tender or painless.
Discomfort and pain as the cyst presses on nearby tendons, nerves, and joints.
How are ganglion cysts diagnosed?
A ganglion cyst can be diagnosed through a physical examination. Your specialist may wish to get X-rays to determine if there is an underlying cause of the ganglion. Collectively, this information will help your hand specialist formulate a treatment plan tailored to your needs.
What are my treatment options for a ganglion cyst?
The good news is that your treatment can often be nonsurgical. In many cases, ganglion cysts can simply be observed, especially if they are painless, since they frequently disappear on their own.
If, however, your cyst becomes painful, limits activity, or is otherwise unacceptable, several treatment options are available. Your Summit hand surgeon will work with you to design a custom treatment plan, which may include:
Splints
Anti-inflammatory medication
Aspiration to remove the fluid and decompress the cyst
Surgery
What can I expect the results to be after treatment?
Your ganglion cysts may come back after treatment, or they may disappear altogether. Knowing there are treatment options available, and that the cysts are not cancerous and do not spread, will help you better understand their nature and allow you to get back to your everyday, active life.
Summit Orthopedics provides personalized hand and wrist expertise
The function of our hands is integrated through our wrists and arms to our shoulders; a problem anywhere along our arm may have a significant impact on hand function and quality of life. If you experience an injury or uncomfortable symptoms, our fellowship-trained hand and wrist surgeons are here to help. Summit physicians receive the highest levels of training and exclusively provide individualized care for conditions of the hand, wrist, and elbow.
Start your journey to better function and less pain. Find your hand expert, request an appointment online, or call us at (651) 968–5201 to schedule a consultation.
Summit has convenient locations across the Minneapolis-St. Paul metro area, serving Minnesota and western Wisconsin. We have state-of-the-art centers for comprehensive orthopedic care in Eagan, MN, Plymouth, MN, Vadnais Heights, MN, and Woodbury, MN, as well as additional community clinics throughout the metro and southern Minnesota.
Related resources for you