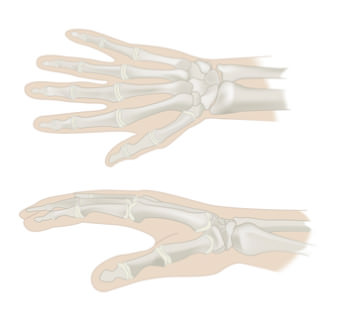 What is a fracture?
A fracture is a break in the bone. Fractures occur when a force is applied to the bone that exceeds the strength of the bone.
Fractures can be placed into two general categories:
In a nondisplaced fracture, the bone is broken but has not shifted or moved out of position.
In a displaced fracture, the bone has shifted significantly and the fractured ends of the bone are no longer in proper alignment.
Your treatment options will depend on the location and category of the fracture.
What causes a fracture in your hand or wrist?
Fractures typically occur because some type of trauma puts force or impact on a bone, and it breaks. A classic example is when someone falls and lands on an outstretched hand or wrist. The force from the fall, in combination with the angle of the wrist, may be strong enough to cause a fracture or break in the bone. More than one million fractures occur every year in the United States.
Some of the most common causes of hand and wrist fractures are:
Sports injuries
Car accidents
Falls
Diseases, such as cancer or osteoporosis
What are the symptoms of a broken hand or wrist?
Symptoms of a hand or wrist fracture vary greatly, depending on the location and severity of the break. Common symptoms may include:
Pain in the wrist or hand
Tenderness and swelling in the wrist and/or hand
Bruising
Numbness in the hand
Occasionally, a visible deformity
How is a broken hand or wrist diagnosed?
Many fractures can be diagnosed through an X-ray and a complete physical exam. In specific situations, your specialist may wish to get an MRI (magnetic resonance imaging) or a CT (computed tomography) scan as well.
What are my treatment options for a broken hand or wrist?
A bone fracture is typically immobilized in order to correct bone alignment and prevent use of the bone while it heals.
Your custom treatment plan may include:
A cast and/or splint
Wrapping
Pain medications, such as acetaminophen
Anti-inflammatory medications, such as ibuprofen
Physical therapy
Surgery
How long will it take my hand or wrist fracture to heal?
It depends. Your healing process is as individual as you are. Much depends on the type and location of the fracture, your age, health, and general physical well-being. The average healing process for a broken bone is anywhere from six to eight weeks. It may be slightly longer if surgery is required.
At Summit, our primary goal is to make sure your bones heal properly so you can get back to your everyday active life as quickly as possible without any future symptoms or loss of function.
Summit Orthopedics provides personalized hand and wrist expertise
The function of our hands is integrated through our wrists and arms to our shoulders; a problem anywhere along our arm may have a significant impact on hand function and quality of life. If you experience an injury or uncomfortable symptoms, our fellowship-trained hand and wrist surgeons are here to help. Summit physicians receive the highest levels of training and exclusively provide individualized care for conditions of the hand, wrist, and elbow.
Start your journey to better function and less pain. Find your hand expert, request an appointment online, or call us at (651) 968–5201 to schedule a consultation.
Summit has convenient locations across the Minneapolis-St. Paul metro area, serving Minnesota and western Wisconsin. We have state-of-the-art centers for comprehensive orthopedic care in Eagan, MN, Plymouth, MN, Vadnais Heights, MN, and Woodbury, MN, as well as additional community clinics throughout the metro and southern Minnesota.
Related resources for you