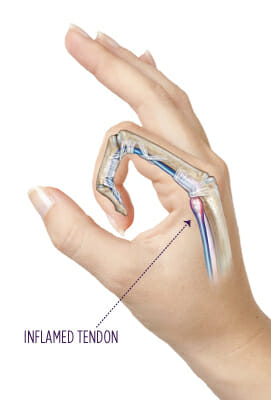 What is trigger finger?
Finger movement is achieved by a complex system of tendons and pulleys. The tendons connect muscles of the forearm to the fingers, while pulleys keep the tendons properly aligned and in place. This allows muscles and tendons to achieve a great deal of strength and control when flexing the fingers.
A trigger finger develops in one of two ways:
The pulleys thicken and tighten
The tendon becomes inflamed and enlarged
In either of these cases, the tendon has a difficult time passing through the narrow pulley and may catch as it passes through.
Why does trigger finger happen?
Trigger finger can occur at any age and may be caused by diseases including:
Gout
Trauma
Diabetes
Rheumatoid arthritis
In most cases, a specific cause cannot be identified. Although we don't know exactly what causes trigger finger, we do know that people who use multiple repetitive movements in their daily line of work – farmers, industrial workers, and musicians – may experience trigger finger more often.
What are the common symptoms of trigger finger?
Symptoms of trigger finger include:
Discomfort and tenderness at the base of the fingers or thumb
A catching or snapping sensation when the finger is extended from a flexed position
A bump in the palm at the base of the affected finger
Pain as the condition worsens over time
Finger locking in flexed position
How is trigger finger diagnosed?
Trigger finger is diagnosed with a physical exam and assessment of your symptoms.
What are my treatment options for trigger finger?
Nonsurgical forms of treatment may totally relieve your symptoms. Your custom treatment plan may include:
Cortisone injections to reduce swelling
Surgery
What can I expect the results to be after treatment?
Your results will depend on your response to medication and how well you avoid the repetitive activities that aggravate the symptoms. The goal of treatment is to eliminate the locking and to return you to full movement without discomfort. Steroid injections will often relieve your symptoms altogether.
If surgery is needed, active movement of your finger will generally be encouraged immediately after surgery. Hand therapy may be prescribed after surgery to enable you to regain full finger movement. Your Summit hand surgeon will develop a customized treatment plan so you will know what to expect with your specific situation.
Summit Orthopedics provides personalized hand and wrist expertise
The function of our hands is integrated through our wrists and arms to our shoulders; a problem anywhere along our arm may have a significant impact on hand function and quality of life. If you experience an injury or uncomfortable symptoms, our fellowship-trained hand and wrist surgeons are here to help. Summit physicians receive the highest levels of training and exclusively provide individualized care for conditions of the hand, wrist, and elbow.
Start your journey to better function and less pain. Find your hand expert, request an appointment online, or call us at (651) 968–5201 to schedule a consultation.
Summit has convenient locations across the Minneapolis-St. Paul metro area, serving Minnesota and western Wisconsin. We have state-of-the-art centers for comprehensive orthopedic care in Eagan, MN, Plymouth, MN, Vadnais Heights, MN, and Woodbury, MN, as well as additional community clinics throughout the metro and southern Minnesota.
Related resources for you