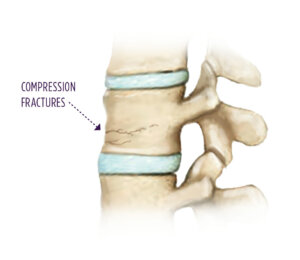 What are vertebral compression fractures?
Vertebral compression fractures are a type of bone fracture that happens when one of the spine's vertebrae collapses. Often caused by osteoporosis, these compression fractures usually cause the vertebra to shrink down by 15 to 20 percent. They happen most often between the bottom of the middle back (lower thoracic) and the top of the lower back (upper lumbar) regions of the spine.
What are the symptoms of compression fractures?
Symptoms of compression fractures may include:
Spinal deformity, such as kyphosis
Decrease in height, which can crowd internal organs, decrease muscle mass, and shrink your lung capacity
How are compression fractures diagnosed?
To diagnose compression fractures, your doctor will review your health history and perform a physical examination. Your physician may also recommend diagnostic imaging, such as an X-ray or MRI, to confirm the diagnosis.
What treatment options are available?
Because compression fractures most often heal on their own with time, treatment is usually conservative. Nonsurgical treatment options include:
Rest
Anti-inflammatory medicines
Bracing
If pain is severe and does not respond to conservative treatment, minimally invasive procedures called vertebroplasty or kyphoplasty can provide relief.
Learn more about vertebroplasty and kyphoplasty.
Summit Orthopedics offers comprehensive spine expertise
Summit's spine care team is recognized by the National Committee for Quality Assurance for the comprehensive expertise of our patient-centered care. Our back specialists diagnose spine problems and design custom treatment plans built on a conservative, nonsurgical approach. Most patients find relief through treatments including guided injections, specialized physical therapy, biofeedback, exercise, activity modification, and medication. When conservative care does not relieve symptoms, our highly skilled surgeons offer proven, evidence-based surgical options. Together with you, we will determine the right course of action.
Start your journey to a healthy spine. Find your spine expert, request an appointment online, or call us at (651) 968–5201 to schedule a spine consultation.
Summit has convenient locations across the Minneapolis-St. Paul metro area, serving Minnesota and western Wisconsin. We have state-of-the-art centers for comprehensive orthopedic care in Eagan, MN, Vadnais Heights, MN, and Woodbury, MN, as well as additional community clinics throughout the metro and southern Minnesota.
More resources for you