The goal of laminectomy is to relieve the pressure on the spinal nerves that are causing your symptoms.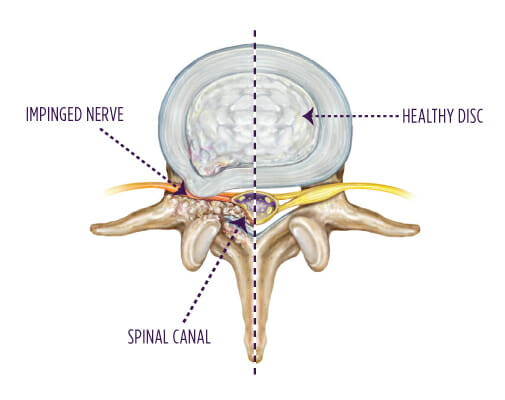 What laminectomy is used to treat
The spinal canal is a tunnel composed of multiple bones (vertebrae) stacked on top of each other that protects the spinal cord. Nerve roots branch out from the spinal cord through small openings between individual vertebrae and continue on throughout the body.
Several conditions can reduce the space within the spinal canal, irritating the spinal cord and spinal nerves. They include:
Bone spurs on the lamina (the "roof" of a vertebra)
If nonsurgical treatments such as medications, physical therapy, and epidural steroid injections have failed to relieve your symptoms, your physician may recommend surgery to relieve pressure on the nerves. Laminectomy is one of these options.
Overview of laminectomy
Your orthopedic surgeon will make an incision near the center of your spine.
After the spine is accessed, the lamina (the "roof" of the vertebra) is removed.
Through this incision, any bone spurs and damaged disc material are removed.
Then, the incision is closed with sutures.
As you heal in the weeks following surgery, the muscles and ligaments of the back will fill in the space where the lamina used to be.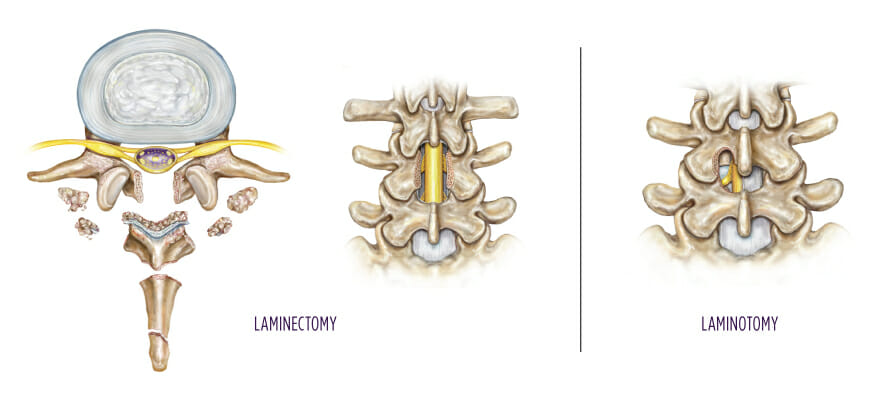 Recovering from laminectomy
Walking is encouraged after a laminectomy or other decompression surgery. For six weeks after surgery, avoid excessive bending, twisting, and lifting.
Summit Orthopedics offers comprehensive spine expertise
Summit's spine care team is recognized by the National Committee for Quality Assurance for the comprehensive expertise of our patient-centered care. Our back specialists diagnose spine problems and design custom treatment plans built on a conservative, nonsurgical approach. Most patients find relief through treatments including guided injections, specialized physical therapy, biofeedback, exercise, activity modification, and medication. When conservative care does not relieve symptoms, our highly skilled surgeons offer proven, evidence-based surgical options. Together with you, we will determine the right course of action.
Start your journey to a healthy spine. Find your spine expert, request an appointment online, or call us at (651) 968–5201 to schedule a spine consultation.
Summit has convenient locations across the Minneapolis-St. Paul metro area, serving Minnesota and western Wisconsin. We have state-of-the-art centers for comprehensive orthopedic care in Eagan, MN, Vadnais Heights, MN, and Woodbury, MN, as well as additional community clinics throughout the metro and southern Minnesota.
More resources for you