Our specialty surgery centers offer a team of dedicated healthcare professionals to care for you through every step of the surgical process. At Summit, you are the center of the care team – and we've brought together a team of surgeons, specialty nurses, technicians, and staff to be with you at all steps of the process.
Our Surgery Centers
Advanced protocols to keep you safe
You don't have to postpone surgery out of fear of COVID. Summit Orthopedics' surgery centers have advanced safety and COVID testing protocols. Even joint replacements and advanced spine procedures can safely be done at Summit's award-winning surgical facilities. It's time to reclaim your healthy, active life.
Meet Our Team of Orthopedic Experts
At Summit, each physician works alongside a team of professionals to care for you, our patient.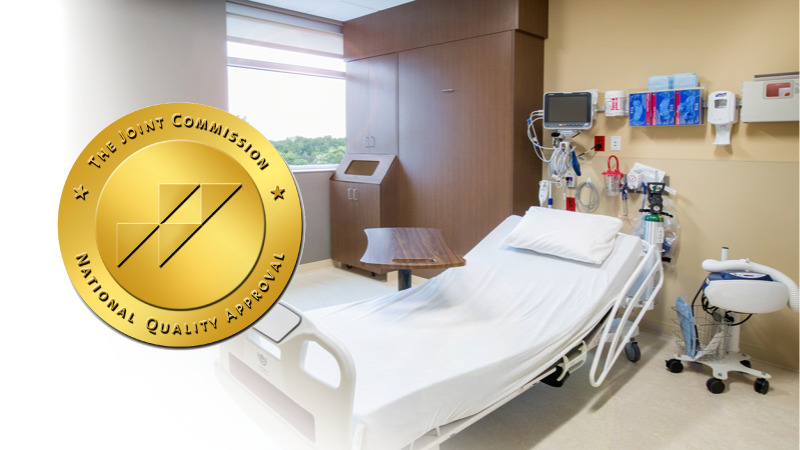 Nationally recognized advanced surgical care
Summit's Vadnais Heights Surgery Center was awarded The Joint Commission's Advanced Certification for Total Hip and Total Knee Replacement. This facility is the first in Minnesota to receive the prestigious certification. The Joint Commission certification recognizes key outcome measurements in patient care as part of the selection and survey process.
Summit's Eagan Surgery Center was awarded The Joint Commission's Spinal Fusion Certificate of Distinction. This facility is the first surgery center in the nation to receive this advanced designation.
Awarded Blue Cross Blue Shield Blue Distinction Center+®
Blue Distinction Center+® is the highest award given by Blue Cross Blue Shield. It demonstrates more affordable care in addition to quality care, treatment expertise and better overall patient results.
Summit's Eagan Surgery Center, serving as a center of excellence for spine surgery, is the only ambulatory surgery center in Minnesota to have received this designation.
Summit's Vadnais Heights Surgery Center was awarded the designation for Knee and Hip Replacement.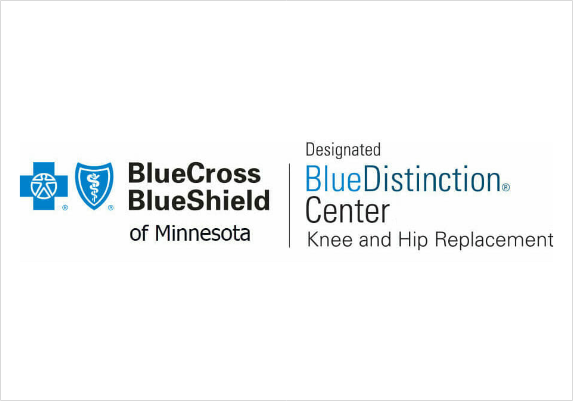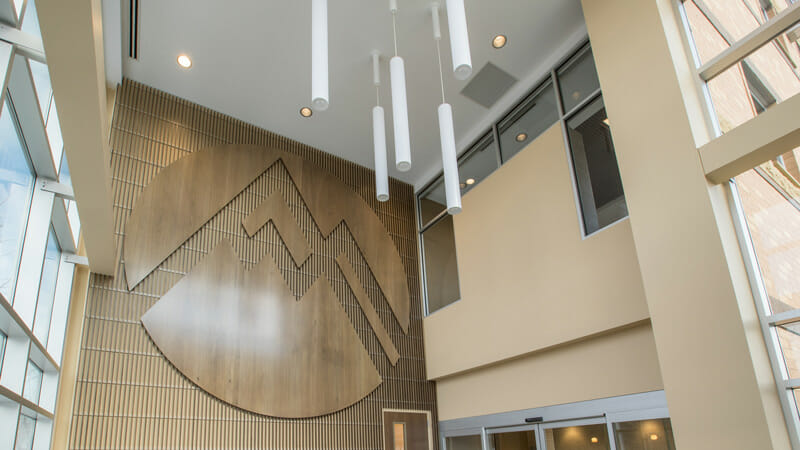 Choosing the right surgical environment
Summit specialists perform surgery both at our ambulatory surgery centers for same-day surgery, as well as at local hospitals for patients who are better suited for that environment. Certain larger total knee and hip replacements as well as advanced spine procedures can be performed at our Vadnais Heights or Eagan Surgery Centers followed by an overnight Care Suites recovery stay. Talk with your surgeon about what option would be best for your unique situation.
Care Suites
Summit's state-of-the-art Care Suites at our Vadnais Heights and Eagan locations offer a full-service specialty recovery stay for larger surgeries, such as total knee and hip replacements and advanced spine surgeries like disc replacements, minimally-invasive surgery, and spinal fusions.
Improved pain management techniques that allows greater range of movement following surgery and accelerates recovery
Trained nursing professionals assist with medication management,
comfort, transfers, and overall recovery needs
Limited interruptions and quiet environment to facilitate recovery
Catered meals and healthy diet selections from local popular restaurants
Personalized one-on-one Physical Therapy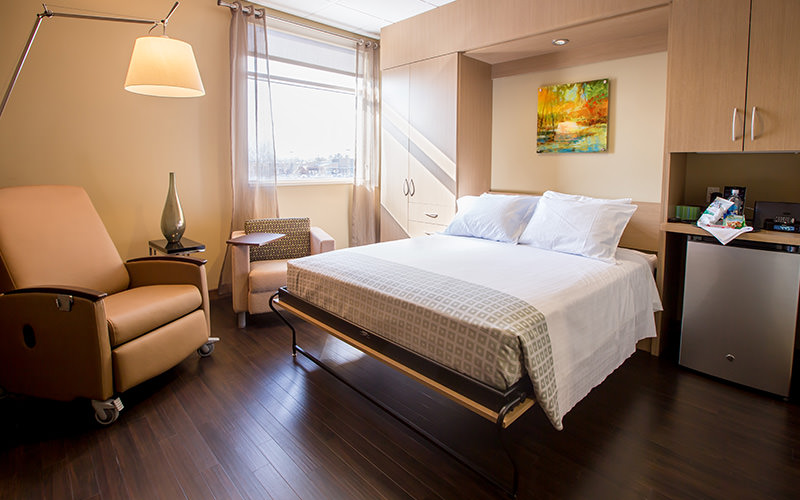 Trusted Surgical Care from the Experts
At Summit, we understand that when a medical issue affects your lifestyle, you want a trusted team working with you and focused on putting you back on the path of recovery with caring expertise. We report on key quality measures to help patients be informed about our dedication to excellence in providing high quality surgical care.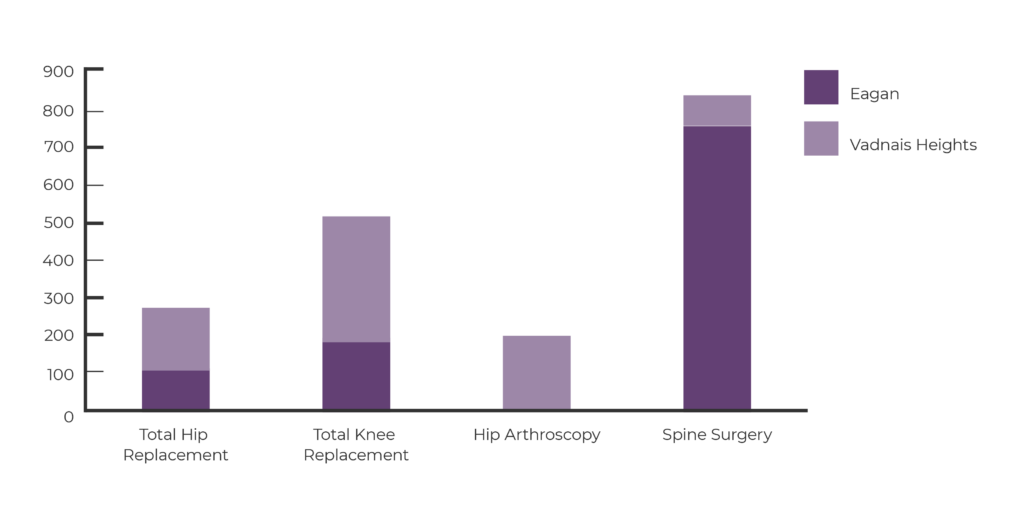 Surgery totals in 2018 for Total Hip Replacement, Total Knee Replacement, Hip Arthroscopy, and Spine surgery at our surgery centers in Eagan and Vadnais Heights.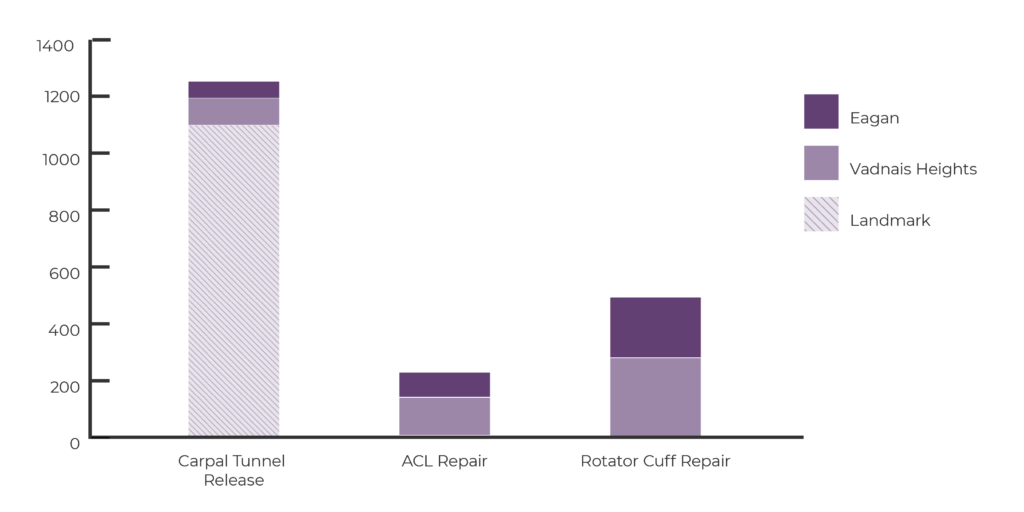 Surgery totals in 2018 for Carpal Tunnel Release, ACL Repair, and Rotator Cuff Repair at our Eagan, Vadnais Heights, and Landmark surgery center locations.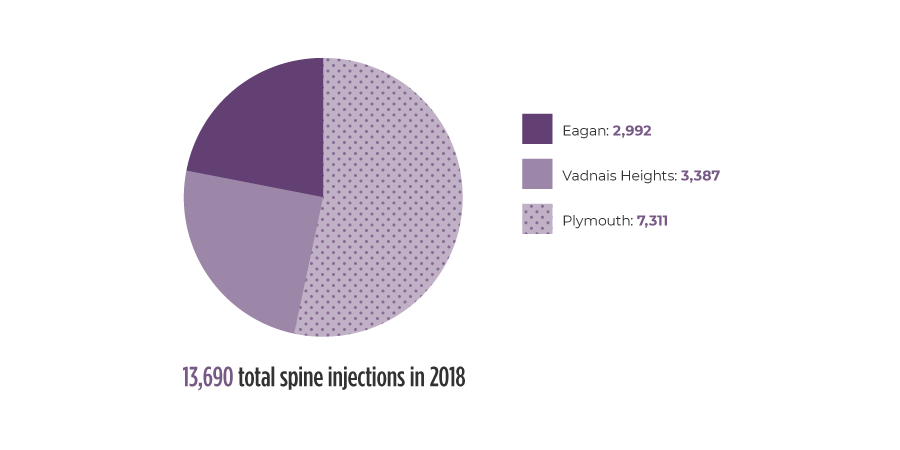 [Click image to enlarge]
Total spine injections performed in 2018 at Eagan, Vadnais Heights, and Plymouth surgery centers.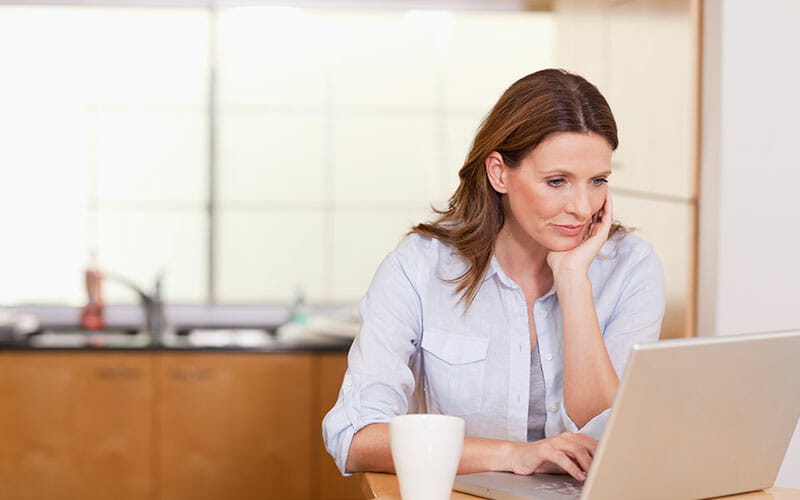 Conservative approaches explored prior to surgery
Frequently, orthopedic conditions can be managed with a wide array of treatments ranging from conservative approaches like medication or physical therapy to a variety of surgical procedures. That's why, at Summit, we begin by considering the least invasive treatment options.
We take a conservative approach to care, and surgery is something we consider only after other efforts have not produced desired results. It's a decision that you and your surgeon make together based on your unique situation.
When you are empowered with information to understand your treatment choices, you are in a better position to choose the path that is best for your values and lifestyle.
Survey feedback for replace_with_js
12/07/2023