2620 Eagan Woods Drive, Suite 300, Eagan, MN
Talk to a nurse, for general surgery questions, or directions: 651-968-5240
Schedule a clinic appointment: 651-968-5201 or schedule online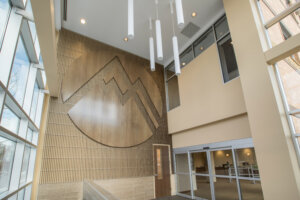 Find location details, map, and parking for Eagan; Surgery Center is located on the third floor. The Care Suites and Procedure Suite are located on the second floor.
Beautiful care suites and specialized orthopedic care by professionals who know how to safely accelerate your recovery. Our Eagan Surgery Center is focused exclusively on providing orthopedic surgical care. Depending on the level of care you require, we offer a 23-hour stay for major procedures, in the case that you need just a little extra time to recover after surgery. The Eagan Surgery Center was modeled after Summit's award-winning Vadnais Heights Surgery Center.
Every element of the surgical experience is custom designed —from state-of-the-art surgical resources to pain management and inviting rooms and compassionate treatment—to provide safe and superior care for excellent value in a beautiful environment so that our patients know they are in good hands.
Summit Orthopedics' Eagan location was awarded the prestigious Certificate of Distinction for Spinal Fusion by The Joint Commission. Summit is the first group in Minnesota to have received this award for patient satisfaction and key outcome measurements.
Common types of surgery performed
Common surgeries that will be performed at Eagan Surgery Center include:
Total joint replacements (knee, hip, and shoulder)
Advanced spine procedures
Spinal decompression: Laminotomy and laminectomy
Arthroscopy (knee, hip, and shoulder)
Anterior cruciate ligament (ACL) repair and reconstruction
Fracture surgery
Rotator cuff repair
Beyond this list, Summit surgeons will perform a variety of other procedures at this facility.
Care Suites
For total joint surgeries and larger spine cases, you can stay in our innovative Care Suites which combine hotel-style appointed amenities with expert nursing care and accelerated therapy. Summit Orthopedics is home to the only Secure Tracks system in the Midwest. These sophisticated therapy systems allow patients to walk upright just hours after surgery while being fully supported by a carriage that runs along a track in the ceiling.
Care Suites and Joint Restoration Journey Video Series:
The latest technology:
The surgery center is appointed with the latest technology to support sophisticated surgical care. This technology is blended with advanced care from registered nurses who have specialized experience in orthopedics.
Medical Tourism:
The surgery center is just minutes from the Minneapolis-St. Paul International Airport and the Mall of America. This new facility enhances Minnesota's growing medical tourism industry. Summit's surgery centers have drawn patients both domestically and internationally who are looking for advanced surgical care. The most common types of procedures performed are joint replacements and advanced spine procedures.
Our unique outpatient surgical facility and care suites provide a 25 percent cost savings over a typical in-patient hospital stay in Minnesota and as much as a 60 percent savings over such a stay in much of the rest of the country. Summit leaders have designed care in such a way that brings down the total cost of healthcare for individuals, employers, and insurance companies, while maintaining the highest levels of quality.
Resources for patients: