The facets are the small, bony joints that connect the spine's vertebrae. Each vertebral segment has two facet joints, one on each side. The lumbar facet joints guide motion in the lower back. These joints provide stability and control but also allow for motion in the spine, so that you can bend and twist.
Just as a joint in your finger, knee, or hip can cause you discomfort, so can the facet joints in your neck and back. They can become arthritic or injured, causing pain. Pain that is mostly in the back and with a less specific, vague aching in the legs (one or both) may be coming from one or more of these small joints in the lumbar (lower back) area.
The goal of facet joint injections is to decrease pain and inflammation in the facet joints by injecting a steroid (a strong anti-inflammatory medicine) into the joint.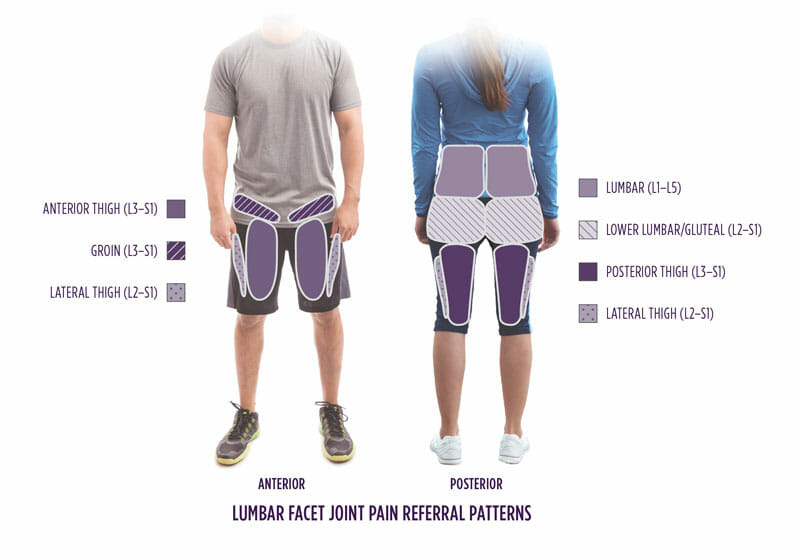 Overview of the lumbar facet joint injection procedure
Here's what to expect during a lumbar facet joint injection procedure:
You will lie face down, with a pillow underneath your abdomen.
The injection area will be cleaned and numbed before the injection.
Using fluoroscopic (X-ray) guidance, your physician will identify the facet joints that should be injected.
Your doctor will insert a thin needle into the back section of the facet joint.
Next, your doctor will inject a small amount of contrast dye to make sure that the medication will flow exactly where it needs to go.
Then, your physician will inject a small amount of steroid solution.
After the procedure, you'll spend 20 to 30 minutes in the recovery area.
The steroid usually starts to work two days to two weeks after the injection. The pain relief varies for each individual, from no relief to long-term pain relief. Patients can have up to four steroid injections per year, depending on their other health problems or steroid injections into different areas of the body.
Preparing for the facet joint injection
While the procedure may take less than 30 minutes, you should allow for at least one hour at the procedure center.
You need to arrange for a driver to be present and take you to and from the medical facility. If you do not have a driver with you, we may have to reschedule your procedure.
If you develop a fever, night sweats, or an active infection before your procedure, your procedure will need to be rescheduled. Please contact our office at (651) 968–5201 immediately to let us know about the symptoms you're experiencing.
Possible side effects of the steroid
Side effects of steroid injections are usually minimal and go away within one to three days after the procedure. Possible side effects of the steroid include:
Facial flushing
Fluid retention
Insomnia
Low-grade fever (less than 100° F)
For women, temporary changes to your menstrual cycle
Headache
For people with diabetes, temporary elevation of blood sugar levels
After the facet joint injection
Follow the specific instructions given to you by the nurses at the procedure center.
Plan to rest for the remainder of the day. You may resume light activity that is comfortable for you, but do not overexert yourself the first day.
For discomfort, apply ice packs to the injection site for 15 minutes several times a day.
Do not soak in a tub for 24 hours after the procedure. You may take showers.
Report any signs of infection or other unusual symptoms to our office, including:

Redness and warmth at the injection site
Increasing pain
Swelling or drainage at the injection site
Chills, night sweats, or fever that reaches above 100° F
Keep a record of your pain and symptoms after the injection and report your results as instructed by your doctor's patient care coordinator.
Remember that your usual pain may go away for a few hours, but after the local anesthetic wears off, it is normal for your pain to return. The full effects of the steroid may take two days to two weeks to work, and its lasting effects vary from person to person. You may also have some temporary discomfort at the puncture site.
Potential risks of facet joint injections
The risks of facet joint injections are minimal and are similar to any procedure involving a needle placement. These include, but are not limited to:
Allergic reaction to the anesthetic or contrast dye. Be sure to inform us before the injection if you have any known allergies
Infection
Irritation of the injected area, which could cause temporary worsening pain
If your procedure includes sedation
You should have no solid foods for six hours before your procedure.
You may have clear liquids up to two hours before your procedure. Examples include:
Water
Broth
Clear fruit juices such as apple, cranberry, and grape juice (no pulp)
Tea, black coffee with no cream
Carbonated beverages
Nothing by mouth, including throat lozenges, mints, and all hard candy for two hours before your procedure.
No gum for two hours before your procedure.
You must have a responsible adult arrive with you to our facility. If you use a taxi or volunteer ride service, you still must have a responsible adult with you in order to help take care of you after your procedure.
Please take your regular medications the day of your procedure, especially any heart, diabetes, or blood pressure medications.
Summit Orthopedics offers comprehensive spine expertise
Summit's spine care team is recognized by the National Committee for Quality Assurance for the comprehensive expertise of our patient-centered care. Our back specialists diagnose spine problems and design custom treatment plans built on a conservative, nonsurgical approach. Most patients find relief through treatments including guided injections, specialized physical therapy, biofeedback, exercise, activity modification, and medication. When conservative care does not relieve symptoms, our highly skilled surgeons offer proven, evidence-based surgical options. Together with you, we will determine the right course of action.
Start your journey to a healthy spine. Find your spine expert, request an appointment online, or call us at (651) 968–5201 to schedule a spine consultation.
Summit has convenient locations across the Minneapolis-St. Paul metro area, serving Minnesota and western Wisconsin. We have state-of-the-art centers for comprehensive orthopedic care in Eagan, MN, Vadnais Heights, MN, and Woodbury, MN, as well as additional community clinics throughout the metro and southern Minnesota.
More resources for you